Bodegas BAIGORRI is an emblematic building and a world reference in guiding its architecture at the service of the gravity winemaking process. The Bodegas BAIGORRI project is undertaken with standards aimed at achieving the quality of its wines, returning to traditional systems, recovering GRAVITY as the main ally. The winery was designed and built by the architect Iñaki Aspiazu, and inaugurated in 2002. Creation aimed at the peculiar way of making our wines and a benchmark for modern architecture that blends into the landscape while respecting the environment where it is located.

A project where gravity and technology have come together to work in harmony and developed to obtain, with the transformation of the grape, great wines from La Rioja Alavesa, "wines with character and personality."
The materials used in the construction work are basically three: exposed concrete, glass and steel. The formal forcefulness has been achieved thanks to the large concrete surfaces forming a room where both steel and wood tanks may be found, which are used in an orderly manner for maceration.
An army of columns along the great warehouse join the floor and ceiling and they give the enclosure, saturated by pleasant aromas from the barrels of the aging cellar, an atmosphere of solemnity and seclusion.
Iñaki Aspiazu, the architect of Bodegas BAIGORRI, left a great professional mark with the creation of this world oenological benchmark, one of his most emblematic projects within the Basque Country, in which nature, technology and architecture come together to work in harmony in a building oriented to the service of the winemaking process by gravity.
On the occasion of his death in April 2014, Bodegas BAIGORRI wanted to honor his memory by organizing, from 2015 to 2017, the Iñaki Aspiazu Photography Contest "ARCHITECTURE AND WINE", with the collaboration of the Basque-Navarre Official College of Architects, to reward people who wanted to express their vision of Architecture related to the world of wine.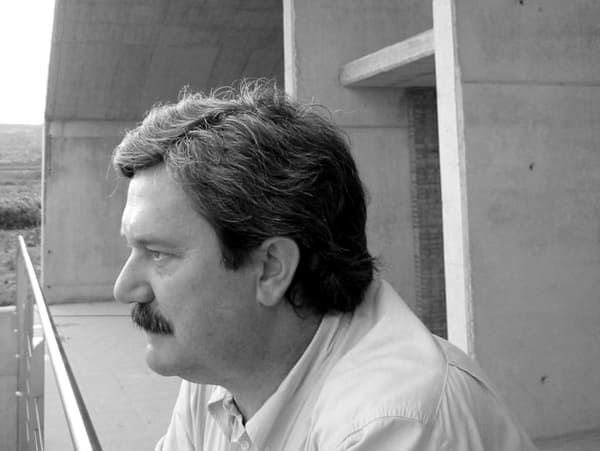 The winning photographs of the three editions are shown below.